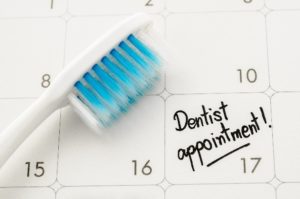 Did you know your smile needs more than just your toothbrush and floss to stay healthy? The American Dental Association (ADA) recommends you visit your dentist at least twice a year. It's easier than ever to get the care you need because you're among the 164 million Americans who have private dental insurance. Unfortunately, if you don't act fast, you're going to lose any coverage you haven't used. Don't wait until it's too late to visit your dentist. Here's why you should schedule an appointment before the end of 2020.
1. Reduce Long-term Dental Expenses
Dental care is designed with prevention in mind. Research shows every $1 spent on preventive dentistry can reduce your restorative and emergency dental fees by as much as $50. By paying your monthly premiums, you have access to 2 preventive visits per calendar year.
The ADA recommends an appointment every 6 months, but you don't need to wait that long. If it hasn't been half a year since your last cleaning and checkup, you can still schedule your 2nd visit to make the most of the benefits you've paid into throughout the year.
2. Keep Treatments Affordable
Besides preventive services, your policy also includes coverage for common restorative treatments, like fillings and root canals. After reaching your deductible, your dental insurance can pay as much as 80% of the cost until you hit your annual limit.
If you're concerned about your treatment exceeding your yearly allowance, your dentist can split the cost across calendar years. Your dentist can break your procedure into multiple phases when possible, allowing you to use any remaining benefits this year and maximizing your allowance for 2021 to help offset the cost.
3. Maximize Your Coverage
At the end of the calendar year, your policy will expire. You aren't reimbursed for anything you don't use, and it won't carry over into the new year. Since many dental offices have been closed from COVID-19 restrictions, many patients still have several benefits remaining that they are about to lose. Your dentist has updated their safety protocols to minimize any risk of transmitting the virus, so you can get the care you need before the end of the year.
Your dental team will work on your behalf with your insurance carrier to file the necessary claim forms to lower the amount you need to pay. They will explain how your benefits are being used to pay for your treatments and discuss any remaining balance.
Achieve a Healthy Smile
Before the hecticness of the holiday season, commit to visiting your dentist. They will help you invest in a healthy smile without breaking the bank.
About Dentistry By Brand
For over 30 years, we've provided dental care for families in the community. We strive to keep our services affordable for all patients. Our office is in-network with many leading insurance companies, including Aetna, BlueCross/BlueShield, Cigna, and MetLife. If you have any questions about your coverage, or you need an appointment before the end of the year, contact our office today.