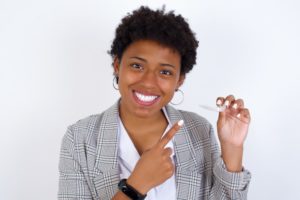 In the not-so-distant past, the only way to straighten teeth was to wear a set of metal braces. Gladly, things have changed, as there is now an alternative method of correcting crooked, gapped or misaligned teeth: Invisalign clear braces. Because of its transparent-plastic design, Invisalign provides patients with a discreet look throughout the treatment process, but that's not all that it has to offer. Continue reading to learn about the other benefits of Invisalign!
The Basics About Invisalign
Before treatment with Invisalign starts, a dentist will perform a careful bite assessment to make sure that you're eligible for the procedure. Digital photos will be taken and, along with important data and measurements, will be sent to an Invisalign-certified lab that will fabricate an initial set of aligner trays. Once the first set is ready, you'll be invited back to the dentist's office to retrieve them and make sure they fit properly.
If everything measures up, the dentist will order more sets of aligners, and you'll be on your way to a healthier and more attractive set of teeth. Even better, throughout the treatment process, you'll experience the many advantages that Invisalign has to offer.
No Bonding
With traditional braces, metal brackets are bonded to the teeth that allow wires to be added that are used to apply pressure. This step of the process is completely eliminated with Invisalign, as the aligners are custom designed to apply just the right force for each stage of your treatment.
No Need for an Arch Wire
Also made from metal, the arch wire attaches to the brackets. Typically, patients wearing traditional braces will visit an orthodontist every four weeks to have the arch wire tightened and the excess material clipped. You won't have to worry about eking out more time from an already busy schedule with Invisalign. Instead, you'll switch aligners every two weeks until your treatment is complete.
Better Dental Hygiene
Because Invisalign clear braces are removable, you can easily maintain your normal dental hygiene routine of toothbrushing and flossing. That's not the case with traditional braces, as the bonded brackets and cumbersome arch wire require special tools for cleaning your teeth. To make matters worse, it's nearly impossible to remove debris as thoroughly with metal braces as you could with no obstructions.
If you're considering Invisalign to fix your smile, the first step is to visit a local dentist for a consultation. While there, you can learn even more about the advantages of Invisalign and get on the road to achieving the smile of your dreams!
About the Author
Dr. Craig Baginski earned his dental degree from the Baylor College of Dentistry in Dallas. Throughout a career that has spanned over 30 years, he has maintained membership with the Dallas County Dental Society and other professional organizations. Additionally, Dr. Baginski is an affiliate of the Seattle Study Club, one of the top continuing education programs in the country. He creates beautiful and functional smiles with Invisalign at Dentistry by Brand, and he can be reached for more information or to schedule a visit through his website.